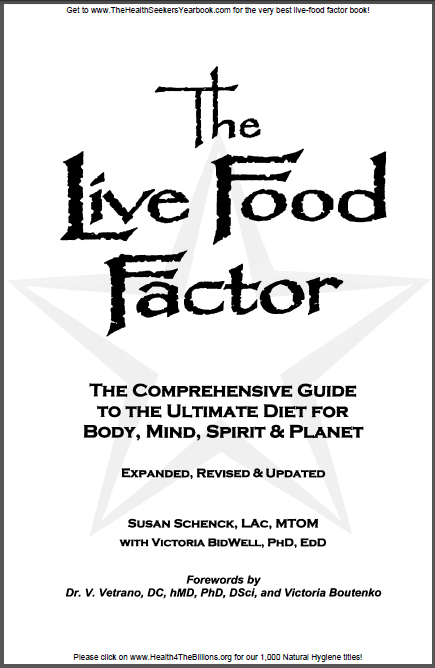 CLICK HERE... FOR 3 WAYS TO GET
YOUR LIVE FOOD FACTOR IN HARD-COPY
&/OR E-BOOK WITH LOADS OF CORRECT
NATURAL HYGIENE INFORMATION.
SEE "OUR 3 EASY PICKIN'S PACKAGES!"


CLICK ON... THE ABOVE TITLE PAGE
OF THE LIVE FOOD FACTOR
FOR THE FOLLOWING:
#1 —
My 118 pages of "Welcome Global
Healthseekers!"
#2 —
Table of Contents for The Live Food Factor
#3 —
Forewords by Dr. Vetrano & V. Boutenko
#4 —
Preface
#5 —
Chapter 1 — 10 Reasons to Stop Cooking
#6 —
Chapter 15 — The Fasting Factor
#7 —
From Chapter 21 —
Victoria BidWell's Correct Natural
Hygiene Raw Recipes
Good Work, Live Food Factor Friends!
You Made It to The HighJoy Homestead,
Where Our Motto Is...
CHOOSE LIFE!
"...life and death, blessing and cursing: therefore,choose life..."
Deuteronomy 30:19
DO RIGHT!
The 10 Energy Enhancers & The 10 Commandments
EAT LIVE!
From The Garden of Eden: Genesis 1:29
AND GET HIGH!
"...the fruit of the Spirit is love, joy, peace..." Galatians 5:22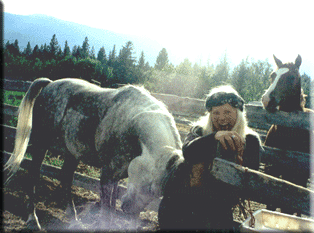 FROM NATURAL HYGIENE REVOLUTIONIST
& HEALTH EDUCATOR, VICTORIA BIDWELL
& OUR LIVE FOOD FRIEND --- CAPTAIN HIGHJOY AMERICA!

JUST SIGN UP BELOW TO TURN YOURSELF INTO..."A LIVE FOOD FACTOR
FRIEND!" THAT WILL MAKE YOU... "AN INTERNET SUBSCRIBER." AND THAT WILL GET YOU... "OUR HOMESTEAD, HOMESPUN, LIVE FOOD FUN & NATURAL HYGIENE TREATS & TIDBITS" WHENEVER I E-MAIL YOU TO... "COME & GET IT!"

DEEREST LIVE FOOD FACTOR FRIENDS!

I am as happy as a blue jay on a sunny spring day to see that you have just logged onto www.4livefoodfactorfriends.com! This private spot from Washington — "THE EVERGREEN STATE" — is just for us! During the entire 2,400 hours & 24 months I worked with Susan Schenck to rewrite, reorganize, reconstruct & reinfuse The Live Food Factor with the best that Dr. Vetrano & I could offer in a way that would be pleasing to "my new author," I went through agony & ecstasy. I stayed up all night with the possums & raccoons working around the clock & way into the nights, enthralled with the idea that our book would help launch The Great, Global Health Revolution & bring "HEALTH TO THE BILLIONS!" Regardless of the blood, sweat & tears endured, I always kept my eyes on the prize — getting to reach you today at www.4livefoodfactorfriends.com! Our website is just 1 of "My Dreams Come True!" I hope that for ya'll, my call from the wild will likewise bring health & happiness treasures to your doorsteps & will be enjoyed for what it is: Homespun Fun from The Hygiene Homestead in The Woods Guesthouse & The HighJoy Homestead Headquarters for GetWell*StayWell, America! For inspirational raw food stories of fasting followed by live-foods, health & happiness, make a virtual visit to The Guesthouse at www.naturecurerawfoodhealthretreat.com.

High & I offer adventure, delight & practical help for ya'll! After free-subscribing at the end of
www.4livefoodfactorfriends.com
, you will find ongoing FUN, inspiration, Natural Hygiene & Back-to-Nature News, 600 book & audio & video offerings, sales that beat the competition & save you hard-earned money, fresh & new recipes & questions with answers — all in the forms of opening letters & PDF files — and 100+ archived e-newsletters! Plus, in 2010, I trucked home in a 17-footer U-Haul a whopping 10,000 pounds of books in 300 boxes from the overflow of Dr. Vetrano's library collected over her lifetime! My team and I have been scanning hundreds of rare books to be offered at www.Health4TheBillions.org. WE ARE ALL SO BLESSED WITH THIS GIFT FROM DR. V! YOU COULD NOT HAVE FOUND ME AT A MORE EXCITING TIME IN MY YEARS OF HELPING HEALTH SEEKERS! You are also invited to free-subscribe at www.4health4thebillionsfriends.com and to receive monthly gift Natural Hygiene info in e-newsletters gleaned from The Dr. V. Library. I hope ya'll will travel the backroads of cyberspace & come on up into the Cascade Mountains of Concrete, Washington, to be in on all this FUN! FUN! FUN! And I hope to be of service in any ways that I can.

What's waiting at Our Live Food Factor Trailhead? To ride our trail with HighJoy & me, all ya'll gotta do is open on up any e-mails from victoriabidwell@aol.com so that I can let you know when something "NEW & WONDERFUL!" is UP! UP! UP! Only if you open them up, will you discover what wondrous gold nuggets from The Wilderness we have waiting to enrich & enliven your health & happiness trek! It is my intention to have every e-mail pan out at your homestead.
In time, www.4livefoodfactorfriends.com will be greatly enhanced & information will be taken out of PDF file formats & presented in a more user friendly format. That will take more months. Right now, the various files are perfected and user-friendly. As more & more are added, they will fully summarize my 27 years of efforts to help Health Seekers learn about Natural Hygiene. Check out the 5 "BEVERAGE TASTING PARTIES" for you to attend with over 40 original recipes to try! ENJOY!

HOW TO GET AROUND OUR PDF FILES...
Please, share www.4livefoodfactorfriends.com with your loved ones & anyone in need.
Finally, please write me with any questions you may have. If the answers demand more time to write out than a phone call takes, I will ask that you call me, instead. Some questions some Health Seekers ask end up in lengthy consultations, and I give these freely but only over the telephone.
If you are about to make a big purchase for your Victory Kitchens, go shopping on the Internet & then e-mail me or call me to make your purchase. 9 times out of 10, I can beat the lowest price you find & still save you some & make some for to pay my bills! HOW GREAT IS THAT? I just don't take an enormous profit for myself. (I got that "Depression Mentality" from my Father Victor Bidwell who got traumatized by living through The Great Depression in his youth & who storytold me endless accounts of his fights for the underdog!) Many a time, I have saved GetWell Friends over $100 on a single item! HOW GREAT IS THAT?
If you are wanting to place an order, please call me for that, too. I have PayPal set up. I can also take your credit card orders over the phone right now! Checks are good, too.
A NOTE ABOUT "THE GREAT & YUMMY EDIBLES" FILE...
You will notice that the first 7 items on "The Summary Order Form" for 63 items total can only be found at GetWell*StayWell, America! because they are my own recipes. If you are trying any or all of the 5 flavors of the seasonings, remember this:
We never need them on fruit dishes, as they are always tasty enough!
We never need them on avocado or veggie &/or nut-or-seed-based dishes that taste great already & that really hit the spot!
But when we make an avocado or veggie &/or nut-or-seed-based dish that just does not hit the spot, that just is not satisfying, that just is a chore to eat & that just leaves us looking around for some favorite, SAD food while still eating the dish before us, that is when we use The GetWell*StayWell Seasonings &/or The Victory Veggie Vittles! Just a teaspoon or a tablespoon of any of the seasonings goes a long ways. So the quart jars last a long time. Also, just a couple of spoonfuls of The Victory Veggie Vittles adds sweet, little flavor-bursts to a bland salad & turns it into a tantilizing taste bud trip!
THANK YOU, LIVE FOOD FACTOR FRIENDS, FOR JOINING UP!
Let me roll out The Welcome Wagon with A LITTLE GIFT FOR YOU: AN E-BOOK OF THE FRUIT & VEGETABLE LOVERS' CALORIE GUIDE. It stands as a little welcome gift for all who visit our private spot at www.4livefoodfactorfriends.com! PLEASE TELL YOUR FRIENDS! It is the only calorie book with just our foods in it. I will be happy to send you the adorable hard copy with any order you make if you just request it! I LOVE TO GIVE HELPFUL & FUN & YUMMY ITEMS AWAY! SO MUCH HAS BEEN GIVEN TO ME, I FEAR I WILL NEVER BE ABLE TO THANK EVERYONE ENOUGH!


REMEMBER: HIGHJOY & I
ARE PULLIN' FOR YA'LL!
WE'RE ALL IN THIS TOGETHER!
Victoria & HighJoy
(aka: "The Wilderness Woman & High!")
Just call me any hour of the day or night: (360) 853 - 7048.
We're at The HighJoy Homestead in Concrete, Washington.
If we're up all night with the possums & raccoons, fine.
If not, VONAGE will take your call, whatever the hour!
Or write me: Box 558, Concrete, Washington 98237.
Or you can e-mail me: victoriabidwell@aol.com.
THANK YOU! GOD BLESS YOU! AND STAYWELL!
CHOOSE LIFE! DO RIGHT! EAT LIVE! AND GET HIGH!
Just Sign Up for Your Live Food Factor
Homespun Fun & Natural Hygiene Below.


Start Your Own, Personal Health Revolution TODAY!

All PDFs Are Created by Victoria BidWell for...


"The Glory of God, Health & Countries!"
We now have 200+ countries around the world.
We have 7 billion+ people on our planet.
We all need health for all the people!
WE NEED HEALTHY PEOPLE TO RESTORE
HEALTH TO OUR PLANET!


Be sure to check your spam folder for any e-mails
from Victoria, just in case.
PLEASE NOTE: YOU MUST CONFIRM YOUR REQUEST FOR THE
INFORMATION BEFORE YOU GET ACCESS TO THE PDF FILES.
JUST CLICK ON THE CONFIRMATION LINK IN YOUR E-MAIL.
And also "white list" victoriabidwell@aol.com for good measure.

HAPPY TRAILS TO ALL LIVE FOOD FACTOR FRIENDS, UNTIL WE MEET AGAIN...


To git along faster, with more fun & more success, remember: "

The Live Food Factor

should not be used alone. It is best used as a companion to Victoria's
2 BOOKS IN 1: The Health Seekers' YearBook With THE BEST of Common Health Sense
." From "Dr. Vivian Virginia Vetrano's Foreword" to
The Live Food Factor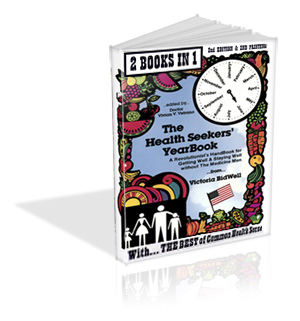 For "Our 4 EASY PICKIN'S PACKAGES"
to get your 2 BOOKS IN 1, just CLICK ON...
www.thehealthseekersyearbook.com.
Here, you will discover the very best
introduction to Correct Natural Hygiene
ever put between 2 covers!
This web page is © copyrighted by GetWell*StayWell, America! No part of this may be copied, or changed in any format, sold, or used in any way under any circumstances. No part of these web pages is to be taken as a substitution for medical care or advise. Live Food Factor cover © copyrighted by Susan Schenck